Ryan Neal Invitational - April 1, 2023. Hosted by the Boardman Chamber of Commerce
Spring Aeration - April 3-6, 2023
West Wind Tournament - August 26-27, 2023. Hosted by the Marker 40 Golf Club
Fall Aeration - August 28-31, 2023
Funshine Tournament - September 16, 2023. Hosted by the Community Women's Club of Irrigon and Boardman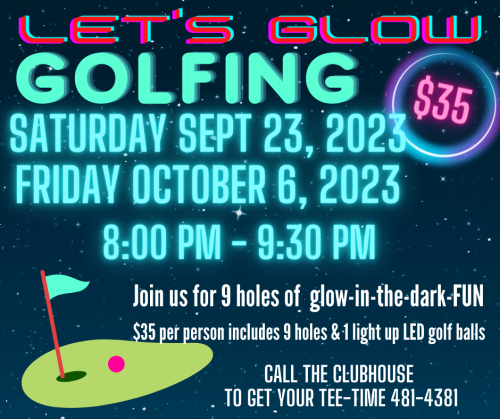 Let's Glow Golfing! - September 23 and October 6, 202 hosted by Riverside FFA starting at 8 PM.
$35 per person: includes 9 holes and 1 light up LED ball.
This is a walking event - NO RIDE CARTS.
Please bring a flashlight to help navigate the holes.
RSVP by calling 541-481-4381 or stop by the Clubhouse.